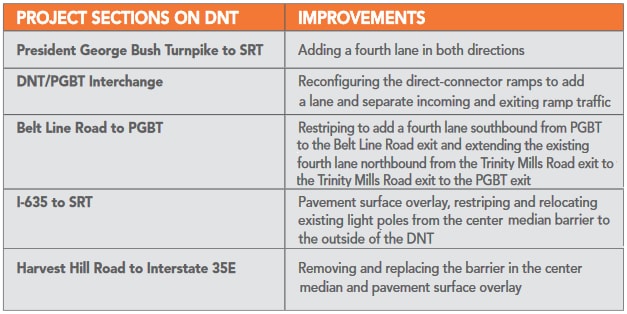 Drivers in DFW are about to feel the impact from a series of Dallas North Tollway improvement projects. On Wednesday, April 29, the North Texas Transit Authority board voted to lower the speed limit along the stretch of the DNT that is undergoing extensive construction.
Due to the new project, the speed limit on the tollway from Interstate 35 to Harvest Hill Road, just south of Interstate 635, will drop from 60 to 55 miles per hour. This policy will be in effect throughout the projected 18 months of construction on the tollway.
Along with the official lowering of the speed limit, drivers will experience other slowdowns along the DNT. Despite the fact that much of the construction is set to occur during the night and occasionally on weekends, there are scheduled lane and ramp closures, including several throughout the summer as the construction continues. It is important to stay vigilant about changing road conditions, traffic jams and road closures before you start driving.

DNT Construction Plans
This large-scale improvement project stretches along the Dallas North Tollway for 21 miles. The project is set to be completed in late 2018, so drivers are set to feel the effects of the slowdowns for the next two years. The overall goal of this construction project is to improve the traffic flow along the DNT and to minimize the impact on traffic from future maintenance projects.
Some specific changes coming from this project include removing and replacing the median barrier along the entire effected stretch of the DNT, adding a fourth lane in both directions from the President George Bush Turnpike to SRT, reconfiguring the direct-connection ramps at the DNT/PGBT Interchange, and infrastructural improvements such as repaving and restriping sections of the tollway.
The construction has been in motion since January and is now showing its impact on Dallas roads. To learn more about the construction project, and what has been happening since it started, take a look at the progress report published by the NTTA.
Remember to stay safe out on the roads. It is important to respect the speed limit changes along the DNT to keep you and your passengers safe, as well as ensure the safety of the construction workers.