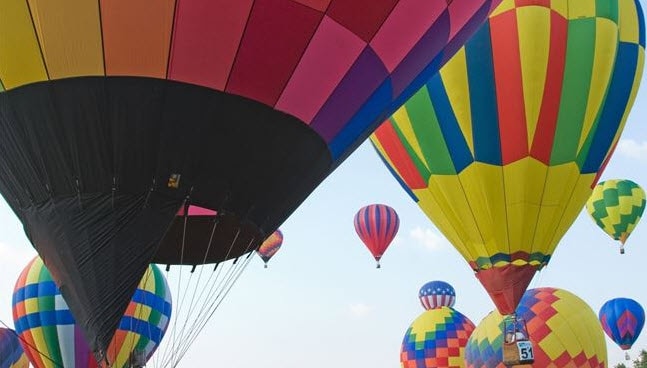 Amphitheater at Oak Point Park
2801 E Spring Creek Pkwy.
Plano, TX 75074
General Admission
$5 one-time entry
$1 off for 65 and older
Free for kids 36 inches and under
Sept. 22-24, 2017
Kick off the fall season at Plano Balloon Festival, where you'll experience an exquisite display of colorful hot air balloons, fireworks, live music and other attractions!
Soar among the clouds on a tethered hot air balloon or simply go to spectate. You'll be mesmerized when you watch balloons dance in the sky, creating a kaleidoscope of color. There will be 40 balloons on display, including 12 featured "Special Shapes" such as Betty Jean the Butterfly, Annie the Lady Bug and High Jack. On Friday and Saturday evenings, the balloons will look even more stunning when they glow after dark.
Also taking the sky each day of the event, the RE/MAX of Texas parachute team will put on performances at 5:30 p.m. They'll add a little daredevil action to the event when jumping from their plane and landing right in the center of the launch field.
If that weren't enough, fireworks will fill the sky on Saturday. The light show is designed and orchestrated by Pyrotex, and will end the night with a bang!
In addition to these high-flying attractions, Plano Balloon Festival also includes live entertainment at the KLUV Main Stage and KDFW FOX 4 Community Stage, and a Central Market Kid's Fun Zone with inflatables, obstacle courses, giant slides and rides such as the Berry-Go-Round. Face painting and craft stations are also available.
Visit the
official festival website
for more details about the event, including information about the half marathon, parking, free bus shuttle and more.