Buying a new car can be a confusing process for those who are new to the process. When it comes to the right time of the month to purchase the vehicle or trading in a current car that you own, there are many myths that buyers believe. If you want to enjoy a smooth car buying process and get the best deal on the transaction, there are a few new car buying myths to learn.
1. You'll Save Money Buying a Used Vehicle
You may want to buy a used car to save money, but it doesn't always lead to added savings over time. You'll likely end up spending the same amount of money or more when financing a used vehicle because there's fewer cash rebates or incentives available compared to new cars that are selling on the dealership's lot. You can get a better deal by improving your credit score and buying a car when interest rates are lower.
2. You Need to Be Knowledgeable to Negotiate a Good Deal
Many people are intimidated to negotiate because they don't have a lot of experience in buying new cars. Although the salesperson will likely have more experience, you can still be informed by researching the vehicle in advance, which will boost your confidence when you're ready to make the purchase. Don't be afraid to take your time or wait if you don't feel like you're getting the best deal.
3. I'll Get a Better Deal Paying Cash
Cash may be king, but dealerships aren't always fazed by it because it means you don't need an auto loan through their establishment. The dealership may be less likely to negotiate a lower price on the car that you want to own because they're losing money on the transaction if you aren't paying them interest to drive the vehicle off their lot. Even if you have to pay interest on a loan that you obtain, you can still get a better deal on the price of the car instead of paying for it with cash. Talk to one of our financing specialists to find out more about financing.
4. You Should Buy the Car if You Can Afford It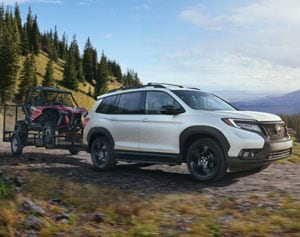 Many drivers make the mistake of buying a car just because they can afford it. Avoid rushing the process and take your time purchasing the car to ensure that you're satisfied with it long-term. There are always good offers and deals available throughout the year, which makes it necessary to take your time. You should be comfortable with the terms of the loan and how long you want to make payments before you sign all of the paperwork and get the keys.
5. You'll Find the Best Deals on the Internet
Online deals may be available when it comes to shopping for shoes or luggage, but it doesn't always apply to new cars that are available. Dealerships may honor a pre-set price that is listed once they obtain your personal information through AAA or Costco, but it doesn't mean that you won't pay more for the interest rate. The warranty on the car may also not be as competitive or fair as you imagined. Do your research and visit dealerships in person to weigh your options.
If you want to learn more about car buying myths that are commonly believed by drivers, we invite you to contact or visit our dealership today. We can answer your questions and also assist you with test driving current models that are available at our location.