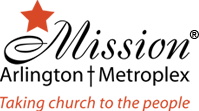 Vandergriff Honda is proud to pay homage to Mission Arlington, led by Tillie Burgin. Mission Arlington sees hundreds of families per day that are in need. They provide health care, dental care, a day shelter, food pantry and many more vital services. Friends, family and staff members of Vandergriff Honda are pleased to support their wonderful programs that do so much good for the community.
Throughout the year the importance of specific donation items change with the ongoing needs of the community. In July and August of each year the emphasis is on the school supply drive. The Mission will be accepting all of the basic school supplies including: pencils, construction paper, rulers, map pencils, crayons, notebooks, spirals, composition books, glue, glue sticks, folders with brads and pockets, etc.
Your donations make all the difference!
To help volunteer or to see a list of immediate needs click here!
To make a generous donation click here!
About Mission Arlington
Tillie Burgin and her family served the Lord as missionaries in South Korea. When the Burgins came home in 1978, after a decade of service, they knew that God had a different plan for their life, a plan which involved Arlington. A persistent question kept coming to Tillie's mind and heart during this time: "If we could do missions in Korea, why can't we do missions in Arlington?" Tillie and those closest to her began to pray. They prayed for seven years. On August 1, 1986, Mission Arlington began.
The Lord birthed Mission Arlington through the faithfulness of God's people at First Baptist Arlington, Tillie's home church. Ladies from the church met each week in homes to pray. They prayed for four months prior to August 1st. Mission Arlington was birthed in prayer. That spirit of prayer still forms the foundation of everything Mission Arlington does today - 23 years later.
In 1990 Mission Metroplex was formed. The existence of Mission Metroplex allowed the participation of many churches from around the city, throughout the nation, and across the denominational spectrum. By doing this, First Baptist courageously accelerated a kingdom vision and multiplied evangelism, discipleship and ministry to people even beyond its own reach. Today, Mission Arlington / Mission Metroplex continues to be surrounded by such a wonderful family of supporters. Individuals, families, civic organizations, schools, and businesses all join together to help Mission Arlington fulfill its mission of serving God and loving His people.
Together, we are making a difference in and for His name.
Mission Arlington Making a Difference in the Community