Honda Makes Cold Winter Days a Little Warmer
The innovation of remote start revolutionized the way Americans can brave the winter now. Remember those early mornings when you used to have to drag yourself out of bed, get dressed, go out and scrape the car windshield, or get everything defrosting (at best). Those days are over! Thanks to Remote Start on your Honda vehicle, you no longer have to turn into an icicle trying to warm up your car.
How Does it Work?
Vehicles equipped with automatic climate control systems are even better than just plain Remote Start (even though both are amazing features). Your models with auto climate can create the ideal condition in your vehicle. You'll be warm and toasty the minute you step into your Honda, appreciating that you spent a little extra for a higher trim or grabbed this feature optionally.
Other Functions
Heats side mirrors


Turn on rear and front defrosters


Frost on your vehicle will be gone by the time you enter


Starts your heated seats and has them all ready for maximum comfort by the time you head out to enter


Warms up your heated-steering wheel (if you have one) making for toasty, comfortable hands on a cold winter day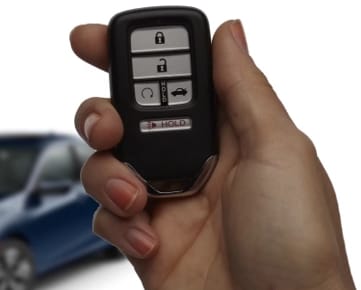 We often call vehicles that look amazing "hot" or features that are cool... hot. However, the Remote Start feature is one of the few Honda features that is literally and figuratively hot right now. Everyone wants it. When you have a Remote Start with Auto Climate Control configuration, you're going to be the happiest person on earth come wintertime. It's going to make a hard day of work or a fun day of play, so much better!
Which models have Remote Start? Well, you'll find Remote Start standard or optional on models like the Civic, Accord, Insight, CR-V, Accord Hybrid, Pilot, and Odyssey. This is a well-represented feature across the Honda lineup, as it's such an essential part of a comfortable daily drive in wintertime. Just having an auto climate is a Godsend, but if you add the power of Remote Start to it, you're going to have a much easier life for the next decade or two. We highly recommend picking up this feature.
Learn More Today
If Remote Start sounds like a heavenly feature to you, then it's time to get on the phone with our friendly sales team and talk test drives. During your test drive, the salesperson can show you how to activate your Remote Start features in general, or they can show you other neat features that your Honda has. Honda is one of the most technologically advanced models in the world. They never stop coming up with new things that make your daily grind less time consuming and cumbersome. Let Honda make your life easier this year by grabbing a model that has Remote Start.