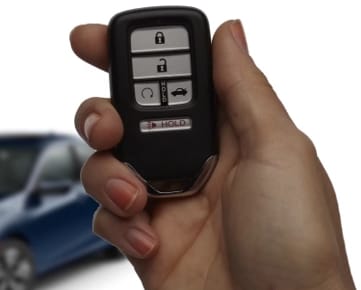 It's no fun stepping into a cold car first thing in the morning, but Honda has a solution. On new cars, trucks and SUVs equipped with the Honda remote start system, there are several unique functions that are super handy in cold weather.
With models that have automatic climate control systems, Honda remote start can be used to precondition the cabin so that it's warmed up before entering.


Honda remote start can also be used to turn on front and rear window defrosters, if a vehicle is so equipped.


Defrosting isn't limited to the windshields either, because the system will actually turn on heated side mirrors, ridding them of frost so that you can have clear visibility when you hit the road.


Additionally, Honda remote start is capable of warming up heated seats, getting them nice and toasty before a driver enters the car.


Finally, on models with heated steering wheels, the system will pre-warm the wheel, keeping your hands warm on your drive.
Many new Honda models offer remote start and other features mentioned above. Check out our hottest offers on new Honda cars for sale in Arlington to find a vehicle that'll keep you toasty all winter long. Also, check out the video below to learn how to use Honda remote start with your key fob.