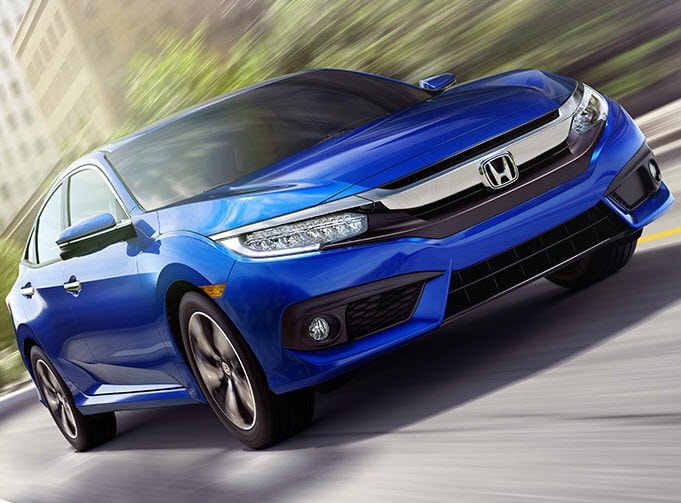 If you want to make sure you're purchasing a car or SUV that's a good investment, Kelley Blue Book's Best Buy awards offer a dependable guide. KBB.com editors test drive nearly every vehicle on the market throughout the year, and then during six weeks of intense testing, they decide which offer the best blend of quality and value in 12 different vehicle categories.
This year, three 2017 Honda models took honors and one in particular took the top title of Overall Best Buy!
Honda Civic
This is the second year in a row that the Honda Civic has earned the Overall Best Buy award from KBB.com and the third consecutive year that it's earned honors as the Best Buy in the Small Car category. Judges had plenty of positive things to say about the 2017 Civic, noting that it "does everything better" than its competitors in many areas.
For example, its blind spot monitoring system goes a step further than those on the Hyundai Elantra and Chevy Cruze by offering Lane Watch; while its active cruise control system enables full stopping and brake holding in traffic, unlike similar systems on the Elantra and Cruze.
Even when fully loaded, the Civic offers an excellent price proposition and you can't beat its EPA fuel economy estimates. Overall KBB.com said, "Ownership isn't just satisfying, it's virtually pain free."
Honda Accord
The 2017 Accord earned top honors as the Best Buy in the Midsize Car category, besting competitors like the Kia Optima, Ford Fusion, and one of its chief rivals, the Toyota Camry. The Honda Accord not only benefited from Honda's renowned reliability and resale value, but was also described as a standard bearer of comfort, practicality and affordability.
According to KBB.com, "Few cars can be purchased or recommended with more confidence than the Honda Accord."
Honda Pilot
In Kelley Blue Book's Best Buy review, the 2017 Honda Pilot was said to "[best] the rest in almost every meaningful measure." The Honda Pilot, which won the Midsize SUV category, earned the respect of judges with its numerous family-friendly features, refined performance and large third row, which was called the most accommodating among its peers.
*For more information, visit Kelley Blue Book's KBB.com. Kelley Blue Book is a registered trademark of Kelley Blue Book Co., Inc.