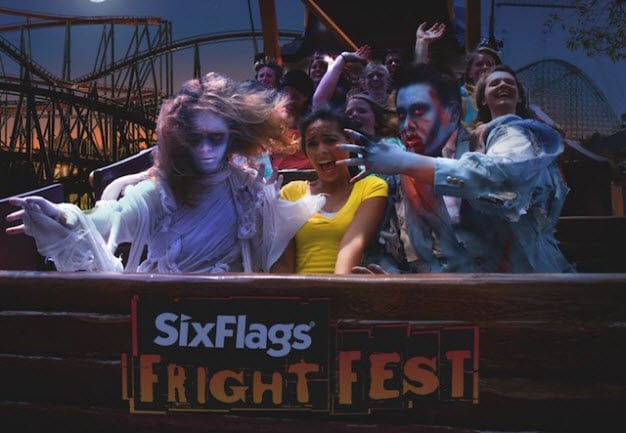 Fright Fest is returning to Six Flags Over Texas for another season of spooky, terrifying fun! Presented by Snickers, the Halloween-centric event is set to take place from Sept. 24-Oct. 31 during select days and nights at the theme park, bringing a wide variety of thrills to visitors of all ages.
The best part about Fright Fest is that it offers a range of Halloween fun. During the day, guests will be able to take their young ones to Looney Tunes SPOOKY TOWN to meet Looney Tunes members, have them participate in the Kid's Costume Party, join in on the Six Flags Spooktacular Street Party or take part in Scary-Oke. Designed for children 10 and under, these exciting events are just ticket to get the entire family in the Halloween spirit.
Once the sun goes down and the moon rises, Six Flags Over Texas transforms into haunted grounds with frightening attractions and entertainment at every corner. Those brave enough to explore the park at night will get the chance to explore everything from Cirkus Berzerkus (a 3D haunted house) and Cadaver Hall Asylum to Piggy's Blood Shed and Zombie Infestation (an overrun refugee camp). In addition to the haunted houses, guests can view the comedy show Arania's Nightmare, dance around at Dead Man's Party and watch as ghouls bring Dr. Fright to life at Dr. Fright's Final Freak Out.
If you're looking for a good scare, Fright Fest has it all. Visit the official website for ticket information and additional details.