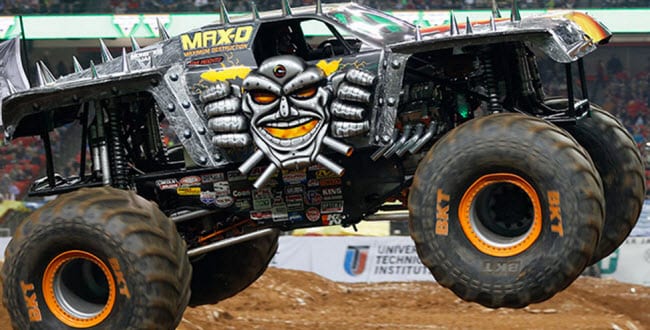 DATE & HOURS
Saturday, Feb. 4, 2017
7 p.m. Show Time
2:30-5:30 p.m. Pit Party
LOCATION
1 AT&T Way, Arlington, TX 76011
ABOUT
Big trucks equal big excitement at Monster Jam! The nation's most famous monster truck tour is coming to Arlington this January, and popular trucks like Grave Digger, Max-D, Lucas Oil Crusader, Hooked and Avenger will be there.
Mark your calendars for Feb. 4, 2017, when the event hits AT&T Stadium. Prior to the show, which starts at 7 p.m., guests can attend the Pit Party between 2:30 p.m. and 5:30 p.m. For hardcore Monster Jam fans, the Pit Party is not to be missed, offering a chance to see your favorite monster trucks up close and meet with their drivers.
At the show, you'll get to watch gigantic trucks push the limits of performance as they jump, flip and crush their way through the arena. These aren't tricks you want to try at home, but when the pros pull them off, they're spectacular sights to see.
PRICES
If you're interested in attending Monster Jam at the AT&T Stadium in Arlington, get your tickets online. Seats start at just $15 and range up to $105 for better spots. To add on a pit pass for the meet and greet before the show, it's only an extra $10.