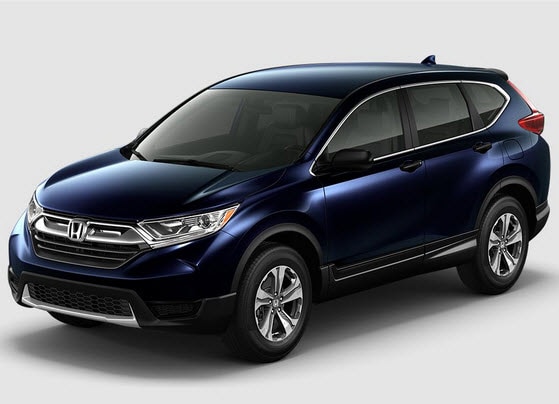 Honda shines as a reliable and stylish brand suitable for all families, and it's not just us who think so. The automaker was recently honored by Kelley Blue Book, earning four spots on the company's list of 12 Best Family Cars for 2017!*
Four Honda Models Were Granted Awards:
Honda CR-V and HR-V - 2017 Best 2-Row SUVs for Families
Honda Pilot - 2017 Best 3-Row SUV for Families
Honda Odyssey - 2017 Best Minivan
Model Preferences Change With Family Needs
These models and their sales trends show an evolution of what families want out of a vehicle. The tradition of a family sedan is being replaced by SUVs, while minivans remain as the ultimate practical family vehicle.
SUVs, and specifically Honda's highly honored utility vehicles, have become even more comfortable and spacious. They also provide a wide range of family-friendly features, excellent drivability, and versatile and stylish interiors, while earning top safety marks.
Honda: A Juggernaut of Family-Friendliness
All of this year's Honda winners are repeat recipients of family car honors.
The 2017 CR-V is lauded as the best-selling compact SUV in the nation and earns this position by providing pleasing features that make it one of the ultimate functional vehicles. Thanks to its combination of power, utility and style, it's a consistent top performer each model year.
"With the all-new vehicle comes an all-new engine, a new architecture, added room, more features, and the high-tech safety equipment that modern families crave. Yet none of it compromises the utility, comfort, and easy flexibility that's made the Honda CR-V a best-seller in the compact SUV market since its debut two decades ago." – Kelley Blue Book's KBB.com
The 2017 HR-V also continues to shine in the compact SUV category with its excellent use of interior space, despite a compact-looking exterior.
"The most affordable entry on this list outshines its subcompact SUV competitors in roominess, refinement and flexibility." – Kelley Blue Book's KBB.com
In the midsize SUV category, the 2017 Honda Pilot is also a repeat honoree. KBB.com editors call it the full package thanks to its combination of luxurious cabin features, affordability and interior space.
Finally, the Honda Odyssey remains one of the best minivans on the market. This model stands out in all aspects, making it one of the benchmarks for minivan excellence. Reflecting just how great of a family pick it is, editors referred to it as "a slam-dunk minivan standout."
Check out these award-winning models and other Hondas at our Arlington dealership.
*For more information, visit Kelley Blue Book's KBB.com. Kelley Blue Book is a registered trademark of Kelley Blue Book Co., Inc.