Every year, there are thousands of tire-related car  accidents - many of which could have been prevented with proper tire care. If  you can't remember when you last took a glance at your tires, now's the time to  put it on your to-do list. At our Arlington tire shop, we recommend that  drivers check at least once per month, and not just for tire pressure.
If you experience any of the following items, bring your  car or truck to our tire shop in the Dallas area for a professional evaluation.
There are cracks in my tires.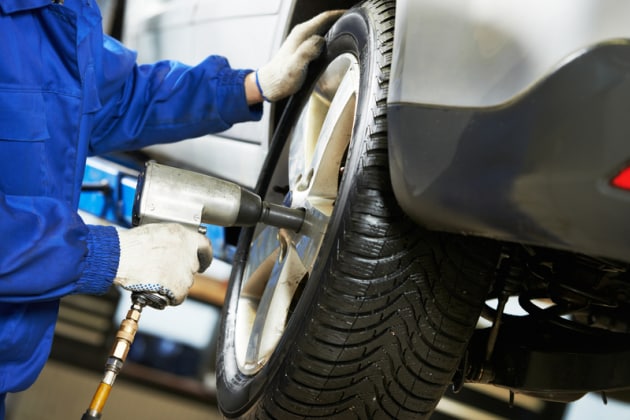 Often, this is due to sun exposure or old age. The cracks should be inspected to determine if they're simply cosmetic or cutting deep  into the rubber.
My front tires are more worn than the back tires.
Or vice versa. When tires aren't rotated on a regular basis, one pair (either the front or back depending the vehicle) will wear out  much sooner than the other pair. This is why tires should be rotated every six  to eight months. If you're overdue, schedule  an appointment at our tire shop in the Dallas area, and view our service coupons to see if there are any current deals on this service.
There's a bubble on the side of my tire.
Did you hit a pothole or curb recently? Internal damage  may be causing a dangerous air leak that could result in a tire blowout.
My tire tread is worn on one side.
This could indicate that your wheel alignment is off. You  should have your alignment checked every six months (hint: have it looked at  when you rotate your tires) in order to prevent premature tread wear.
My car shakes on the highway.
If you notice vibration when driving at 60 mph or higher,  your wheel balance is probably off. Even at 40-55 mph, you may notice shaking  which gets worse as your speed increases. Wheel balancing should be performed  about every 3,000 to 6,000 miles in order to avoid this.
Tire shop near me
You should get new Honda tires right away if  your tread looks bald or if the tread is 2/32" or lower. Check out prices on new  tires in Arlington here! We also invite you to come to us for all of your tire-related services. We offer certified mechanics, state-of-the art equipment  and competitive prices, along with perks that you won't find in most chains,  such as free car washes with every service!