Are you wondering if the time has come to schedule transmission service for your Honda? Some Honda drivers are aware that regular transmission maintenance service is essential for the longevity of their vehicle, but they do not know what is required or when to schedule the service. Others may be wondering if some unusual activity in their vehicle is related to transmission damage. Regardless of your concerns related to the transmission in your Honda, you can feel confident that your vehicle is in great hands when you bring it to us. Our certified auto technicians can easily inspect the transmission and its service history to determine the right steps to take to care for it properly. A breakdown related to the transmission of your Honda could be a frustrating hassle to deal with, and the good news is that it could be avoided altogether if you schedule transmission service with us soon.
How Should I Maintain My Honda's Transmission?
One of the best steps that you can take to maintain your vehicle's transmission is to service the fluid. Transmission fluid serves the critical functions of managing heat in the transmission and of lubricating the parts to ensure long-lasting use. The fluid must be clean and free of debris to work properly, but the fluid will gradually become dirtier over time as you drive around. Flushing or changing transmission fluid periodically is an important step for total vehicle maintenance regardless of the type of Honda that you drive. General guidelines for transmission fluid service state that service should be performance approximately every two to three years or approximately every 30,000 to 45,000 miles. For more specific information, request assistance from one of our certified auto technicians, or refer to your Honda owner's manual.
What Type of Transmission Fluid Service Is Needed?

When you contact us to schedule transmission service for your Honda, you have the option to schedule a fluid flush or a fluid change. The more basic service is a fluid change. This service only changes transmission fluid in the pan and replaces the transmission filter. The older fluid that is in the cooler lines and torque converter remains. The more comprehensive service is a transmission fluid flush. With this service, fluid is flushed out of the entire system. All components reserve a fresh supply of fluid, and the transmission filter is replaced. Generally, a fluid change may be sufficient if you regularly and frequently service your transmission. If you go longer between services, a full flush may be recommended. Our service techs can give you personalized guidance when you contact us.
How Do I Know If My Honda's Transmission Is Damaged?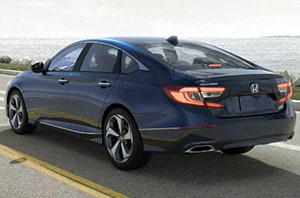 Transmission maintenance is only one of the ways that we can help you to take great care of your Honda. We can also repair any damages to your transmission. You may identify signs of damage that require professional assistance if you observe your vehicle closely. For example, some drivers may see transmission fluid puddling up underneath the car when it is parked, or they may notice a burning odor. Others may see the "service engine" light turn on, or they may observe that the movement of the vehicle is jerkier than before. Our team can diagnose any transmission issues that your Honda has. For assistance with your vehicle's needs, contact our office today.
Service Hours
Monday

7:00 am - 7:00 pm

Tuesday

7:00 am - 7:00 pm

Wednesday

7:00 am - 7:00 pm

Thursday

7:00 am - 7:00 pm

Friday

7:00 am - 7:00 pm

Saturday

8:00 am - 5:00 pm

Sunday

Closed