How Often Should You Replace Your Windshield Wipers
Since you want your windshield wipers to be in good shape, you will want to replace them if they're worn out or damaged. Ideally, this should be done every six to 12 months, but since that is such a large window of time, it's best to check your wipers regularly to see if they need to be replaced. Here's what you should be looking for.
Worn or Damaged Rubber
The rubber blades are what clear rain, snow, ice, and debris from your windshield. They are also vulnerable to damage and regular wear and tear. Check your wiper blades at least once a month. If they are rough to the touch or they are visibly cracked or torn, your windshield wipers should be replaced.
Streaks On Your Windshield
If your windshield wipers are too damaged to work properly, they'll probably leave streaks on your windshield. While this is usually just a minor annoyance, streaks can impair your vision if they get too far out of hand. They will only get worse, so it's best to replace your windshield wipers if you start to notice them.
Squeaky Wipers

Older windshield wipers will also squeak and squeal when you use them. While you can probably get at least a little more use out of squeaky windshield wipers, it's still better to replace them sooner rather than later. Besides, nobody should have to listen to what amounts to nails on a chalkboard when they're driving on a rainy day.
Rust
Finally, check your windshield wipers' metal arms and joints for rust when you check your wiper blades. A little bit of rust won't impair your vision, but too much is a sign that your windshield wipers could break off. Since this could spell disaster during a severe storm, it's best to buy some replacement wipers as soon as possible.
Quality Replacement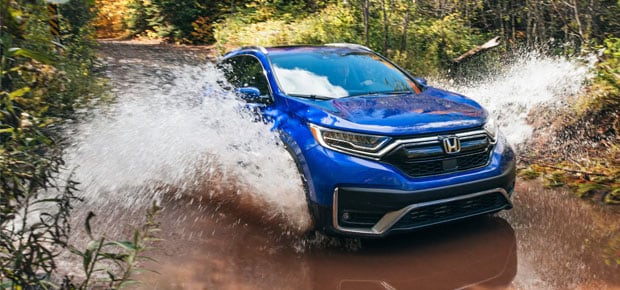 The good news here is that it isn't hard to replace windshield wipers. You only need to buy the replacements from an automotive supply store and install them yourself in most cases. If you aren't comfortable with this bit of maintenance, you can always bring your car to Vandergriff Honda and let us take a look at it. We can help you find the best windshield wipers for your vehicle and help you install them.
Hours
Monday

9:00am-9:00pm

Tuesday

9:00am-9:00pm

Wednesday

9:00am-9:00pm

Thursday

9:00am-9:00pm

Friday

9:00am-9:00pm

Saturday

9:00am-9:00pm

Sunday

Closed