Dealer Researching the New CR-Z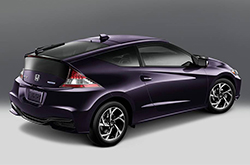 The 2016 Honda CR-Z is a two-seater hybrid vehicle many buyers will love. Offering great fuel economy, practicality and appealing looks, the sport compact is an ideal choice for those in need of a fuel-efficient two-seater. Slightly updated for 2016, the CR-Z features revised exterior styling, new technologies and more standard amenities across its roster. Available in three trims - LX, EX and EX-L Navi - the hybrid car benefits an array of different buyers in today's market, and if you'd like to learn more about the vehicle, be sure to read our 2016 Honda CR-Z review below.

The small, lightweight 2016 Honda CR-Z in Arlington is a hybrid sport coupe fit for the masses. For the new model year, the CR-Z features revised front and rear-ends that give off a more athletic appearance. Additionally, the exterior design is sleeker than the previous model and the interior features a new dashboard that is futuristic and sure to attract new car buyers. Aside from styling modifications, the CR-Z also gains a new 7-inch touchscreen and a blind-spot warning system designed to help prevent accidents. Antilock brakes, stability and traction control, a standard rearview camera and a collection of airbags can also be found in the two-seater, improving safety.

Powering the 2016 Honda CR-Z in Arlington is a 1.5L four-cylinder engine and electric motor that combine to deliver 130 horsepower and 140 lb.-ft. of torque when working alongside a six-speed manual transmission. With a continuously variable transmission, the CR-Z's torque decreases to 127 lb.-ft. Models with this transmission produce an EPA-estimated 37 mpg combined, 36 city and 39 highway, while manual models generate 34 mpg combined, 31 city and 38 highway. Manual-equipped models can also jet from 0 to 60 mph in 8.8 seconds, which is a quick time for a car in its class.

Keep browsing our 2016 Honda CR-Z review below for more details about the new hybrid and its range of features.